Introduction
The Comment Register Module is an integral part of MySchoolJamaica.com. This comprehensive feature facilitates meaningful communication about student performance amongst teachers, grade supervisors, principals, vice-principals, students, and their parents. This guide aims to provide a step-by-step understanding of how to effectively use the Comment Register feature, including accessing the register, navigating the interface, adding and saving comments, utilizing predefined comments, and troubleshooting common issues.
Furthermore, the Comment Register is equipped with a set of predefined comments for each user category, thereby simplifying and streamlining the process of documenting observations. These comments can also be set up based on a performance band (for example, 80-100) providing a useful tool for grade supervisors and principals who often comment on academic performances.
Table of Contents
1. Predefined Comments
The Comment Register is preloaded with comments that each user category can pull from, tailored specifically for homeroom teachers, grade supervisors, and principals. Users may also set up predefined comments based on a performance band, such as 80-100. Such comments are particularly helpful for grade supervisors and principals, who typically comment on academic performance.
Note: Since predefined comments are based on averages, ensure that all grades are entered and processed. This ensures that the comments are applied based on the final average and not an incomplete calculation.
2. Accessing the Comment Register
The process to access the Comment Register varies slightly for homeroom teachers, grade supervisors, principals, and vice-principals. Follow the steps outlined below according to your role:
For Homeroom Teachers and Grade Supervisors:
Visit myschooljamaica.com.
Log in using your credentials.
From the sidebar menu, select "Comment Register."
For Principals and Vice Principals:
Visit myschooljamaica.com.
Log in using your credentials.
From the sidebar menu, select "Task" then "Comment Register."
The Comment Register window will display as follows: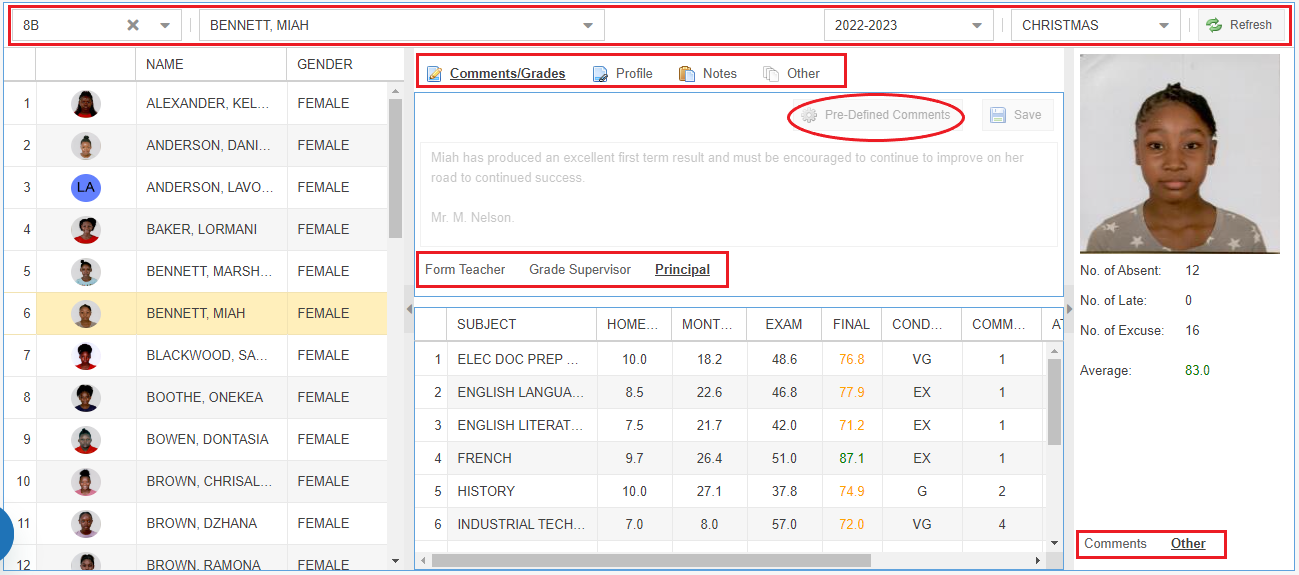 3. Navigating the Comment Register
Once you've accessed the Comment Register, you'll notice filter fields labeled as ClassID, Student, Year, and Term. These allow you to specify the register you want to work on. By default, these filter fields are set to the active period, typically set by the system administrator as the current period. However, you have the flexibility to modify these fields according to your needs.
Here's a step-by-step guide on how to make a comment:
Select the student's name from the list on your right. This list is presented in a collapsible panel that will expand and collapse based on the size of your device.
In the center of the Comment Register, you'll find the comment fields for all three categories: Homeroom Teacher, Grade Supervisor, and Principal/Vice Principal. Choose your category. The system will limit you to the category based on your user role.
Type your comments in the corresponding comment field. Be sure to provide concise yet comprehensive feedback tailored to the student's performance and growth
Click "Save" when done. Remember to click "Save" after typing each comment for the respective student. This action ensures that your comments are recorded and won't be lost.
On the right panel, there's an image and statistics about the selected student. This panel features two tabs: "Comments" and "Other."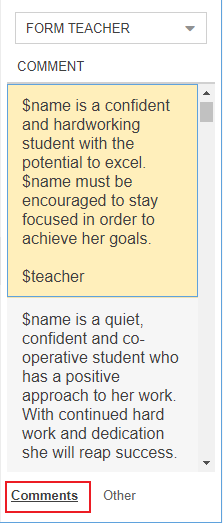 4. Using Predefined Comments
The Comment Register also enables the use of predefined comments. To do so, select the "Comments" tab to view a list of comments that have been previously configured. To use a comment from this list:
Drag the desired comment from the list and drop it into the comment box. This action can save time, especially when the comment matches your observation or feedback for the student.
Once a comment is dragged and dropped, the system will automatically save it. However, if you modify the dragged comment, remember to click the "Save" button to ensure that the changes are recorded.
5. Discover Additional Features
Apart from the "Comments/Grades" tab, the Comment Register feature includes other tabs like "Profile," "Notes," and "Other." Here's a brief explanation of each:
Profile Tab: This tab provides a platform for users to record any required qualitative score on different attributes that the school may require. For instance, if your school requires teachers to provide a score for attributes like "teamwork" or "creativity," this tab provides the perfect space to do so.
Notes Tab: This tab allows users to record notations like responsibility, merits, demerits, and other custom notations. These notations can supplement the comments, providing a more holistic view of the student's performance.
Other Tab: This tab enables the recording of house assignments and extra-curricular activities. It allows for a comprehensive record of the student's involvement in various school activities outside of academics.
Remember that changes to the Comment Register are based on cut-off dates set by the administrator, or if the period is closed. Therefore, comments can't be changed while the period is closed or the cut-off date has passed.
6. Setting Up and Using Predefined Comments Based on Average
The Comment Register feature further allows grade supervisors and principals to set up and use predefined comments based on an average band. These comments can save time and provide consistent feedback for students falling within certain performance ranges. Here are the steps to set up these predefined comments:
On the "Comments/Grades" tab panel, select the gear icon labeled "Predefined Comments." This action will load the "Predefined Comments (Averages)" window.
Set the period and grade level. Do note that you may re-use comments from a previous period by selecting the period you had them in. Then you will be able to apply them to the current period.
Define the different bands. To add a band, click the "Add" button. A new line will be added to the list of bands.
Input the values for the "From" and "To" fields, with "From" being the starting value for the range and "To" being the ending value.
Click "Save," then input the comments for this band and Click "Save" again.
Note: You can use wildcards in your comment blocks. A wildcard is prefixed with a $ sign, e.g., "$name" will return the first name of a student, and "$she/he" will return the correct pronoun based on the student's gender. Utilizing these wildcards can help streamline and personalize your comments, further enhancing their effectiveness.
7. Applying Predefined Comments
To apply the predefined comments you have just set up based on an average band, ensure that all grades are entered, processed, or submitted.
Click the "Predefined Comments" button. This button will only be enabled if you are defined as a grade supervisor or principal.
Use the "Apply" button to apply the predefined comments to the current period.
After applying the predefined comments, make sure to click the "Save" button on the Comment Register. This step confirms that all changes are saved properly.
By default, the system will not overwrite a comment if one already exists for the student. If you want to comment directly on a few students, you could fill in those first, then apply the predefined comments. The system will preserve your manual comments and fill in the others with predefined comments.
However, if you wish to overwrite comments—for example, because a set of grades were left out, then recently submitted—you can reapply your predefined comments. To do this, simply tick the "Overwrite" checkbox on the window. This feature gives you the flexibility to ensure that your comments accurately reflect each student's final performance.
8. Troubleshooting Tips
While navigating the Comment Register, you may encounter some common issues. Here are some troubleshooting tips:
No ClassID Displayed: If your ClassID is not displayed, it means you are not defined as the homeroom teacher or grade supervisor. In this case, you should liaise with your grade supervisor or system administrator for further assistance.
No Student Data: If no students are displayed on the register list, click the refresh button on the Comment Register, located in the upper right corner. Avoid using the browser refresh button for this action as it may not update your page correctly.
9. Conclusion
The Comment Register feature on MySchoolJamaica.com is an instrumental tool in assessing and recording student performance. By effectively utilizing this feature, teachers and school administrators can provide valuable feedback and guidance to students and their parents, ultimately fostering student success and development.
By following this comprehensive guide, users can maximize the use of the Comment Register feature, ensuring an efficient process of documenting and sharing performance assessments. Remember, the key to effective feedback is timeliness, relevance, and clarity. The Comment Register is designed to facilitate all of these.
Should you have any questions or need further assistance, please do not hesitate to contact our support team.