To create a mark sheet, you would need to navigate to My Markbook2, on the left-hand side of the page.
Select the School Year (eg. 2019-2020) and select the Term (eg. Easter).
After making these selections, you would now select Insert at the top of the page.

After selecting Insert, the following pop-up window will appear.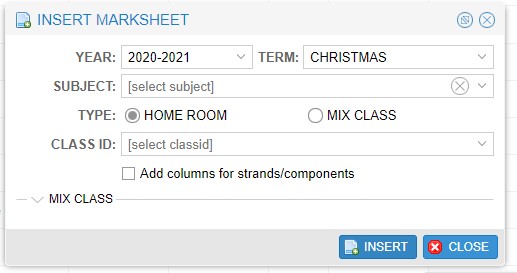 The Year and the Term are pre-selected. However, you will now need to select the Subject (eg. English Literature). The Type, which is homeroom is already pre-selected as well.
After selecting all the relevant fields, you would now select Insert.
The mark sheet has now been created. You may now insert columns and fill in the grades for your students.
N.B. If it were for a mixed class, you would select mix class instead, see https://www.youtube.com/watch?v=EyVVRcTEP28